G-away bottle cleaner is for cleaning containers that can't be dishwased. G-Away takes away the odor, stains, algae from bottles and containers. G-Away cleans weekend stained office coffee cups easily.
| | | |
| --- | --- | --- |
| Before -> | G-Away Rinsing -> | After |
| | | |
G-away Product is purely made of natural ingredients making it absolutely unharmful for the user. G away bottle cleaner and deodorizer cleans all the algae and dirt from narrow open bottles, coffee / tea mugs, large bootlegs making the bottles clean, odorless and fresh within minutes , saving the user's precious time and hardship. It also assures a complete chemical free taste after use.
Just drop G-Away packet in the container, rinse it and experience the result that the stains and algae are all clean and that the odor has vanished completely G-Away - is an easy, quick and safe container cleaner(when used as directed). G-Away cleans the bottles/containers in 1 or 2 minutes.This natural , non chemical based product can work wonders in offices.It can be used for cleaning the weekend strained coffee mugs which the employees just skip washing before they leave thus making the cups sticky and hard. For each clean there will be a paper with the packaged solution to remove the hard residual and actually there will be no sharing of brush by the employees.
Features:

Exclusively made of natural ingredients, does not constitute hazardous chemicals making it totally safe and user friendly, when used as directed.
easy to use, cleans all hard stains and clear the algae from all types of bottles/ containers.
With a single rinse of G-Away, experience the result that the bad odours have all vanished and also assure a fresh chemical-free taste after use.
Cleans all hard and sticky residual very easily from the weekend stained coffee mugs.
G-Away bottle cleaner and deodoriser can be used to clean narrow open bottles, coffee / tea mugs, large bootlegs like 1/2/3/5 gallons water containers.
G-Away unique bottle cleaner and deodoriser cleans algae and hard stains from inside the bottles making them totally hygenic
G-Away bottle cleaner comes with 20 sachets in a pouch. Just add a sachet in the stained bottle , add a kitchen paper towel and shake it for a minute or two. Trash the water and paper towel/sachet and then rinse the bottle with fresh water. Repeat the process if it is too dirty.
For small bottles drop one sachet of G-Away inside the water bottle along with a paper towel, add 2 cups of water and rinse it.
For large bootlegs and containers add 4-5 cups of water along with the sachet and paper towel, rinse thoroughly through all sides for few minutes, trash the dirt and algae and then rinse again with fresh and clean water. Please repeat the process if the bottles are stinked with much dirt.
For best results please don't forget the follow the instructions printed on the pouch.
How To Clean Office Coffee/Tea Cups
Thick sugar stained coffee/tea cups can be cleaned quickly using g-away cleaner.Just drop a packet, add little water and stirr. You don't need to use stinky, stainy used brush anymore.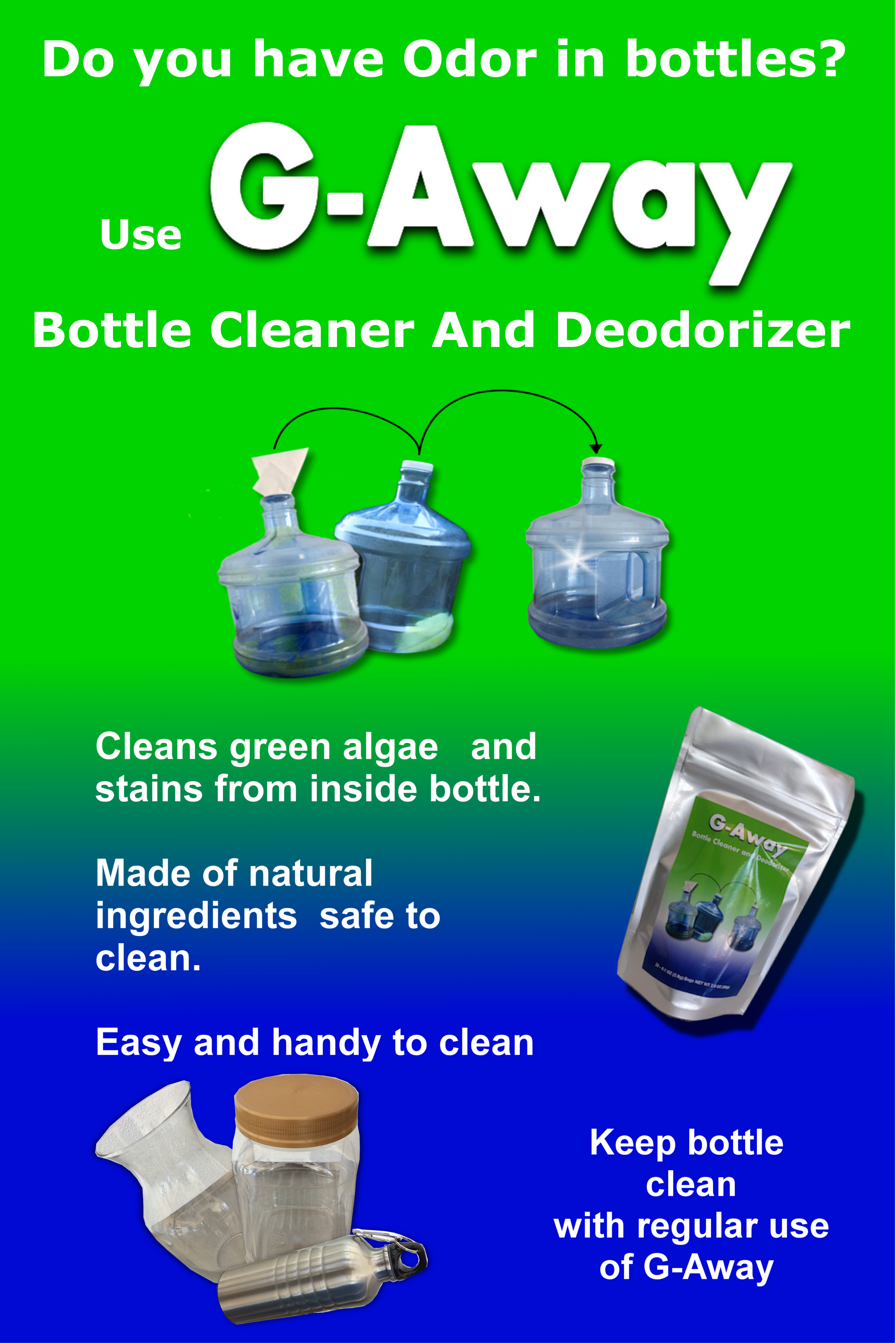 Note: The retailers from the following states are authorized to sell/distribute g-away bottle cleaner.
Authorized States To Sell: CA,AZ,AR,FL,GA,HI,IL,MA,MN,MO,NV,NJ,NE,NY,TN,TX,WA,WI - All other states not in this list are not authorized to sell g-away in-store or online. Please contact us, if you want to distribute from other states than this list.